Data Centre Modernisation.
IT leaders are modernising their delivery organisations to ensure that IT service delivery is able to keep pace with the speed of business. With an increased drive to improve agility and speed while increasing efficiency and reducing risk, it's important that the key platforms running the business are modernised to support these aims.
Insight's Data Centre transformation solutions enable our clients to achieve these aims by evaluating each clients unique requirements and architecting solutions that leverage the best of modern data centre technologies and public cloud solutions.
Adopt next-generation technology.
We'll match technology, services and processes to your business needs and help you integrate new strategies to make core changes to your IT infrastructure.
Design & integration
Platforms to enable IT transformation delivering operational best practices aligned with your governance and compliance requirements.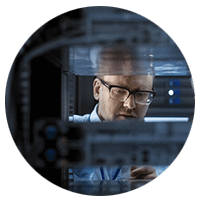 Consolidation & migration
Gain total control of your storage, server, network and business applications.
Extend your data centre to the cloud with confidence.
IT transformation can be enabled by cloud platforms but at the same time these platforms bring with them a fundamental change to service consumption and service delivery. How do you balance your day to day operations while developing new capabilities to manage these platforms? You need an approach which respects your IT governance and compliance requirements whilst unlocking transformation opportunities.
To harness the possibilities of the future, while extending on your existing investments, look for a partner that brings a wealth of operational experience in digital platforms. We have years of experience in data centre transformation and work with our clients on consulting, assessment, design and implementation of cloud platforms everyday.
Migration Strategies
For every workload, there are ways to determine the platform that's the best fit, based on your business requirements. We evaluate and assess multiple factors to determine what belongs where — from the public cloud to on premises. We consider:
Security requirements
Data storage & access requirements
Growth requirements
Governance and compliance requirements
External factors like maintenance agreement and end of life support events
The reality of Data Centre transformation
IT leaders are tasked with managing exisiting infrastructure while simultaneously preparing for the future. But because of risk, complexity and lack of resources, businesses are turning to cloud and data centre experts to successfully achieve transformation.
In order to serve the business, work and data must be easily accessible, protected and efficiently managed. You need next-generation technologies and a comprehensive strategy that guarantees consistent security across all platforms. We can help.
Light up your IT transformation strategy.
We will help you arrive at a comprehensive strategy to increase agility, align your workloads, design and effectively implement next-generation technology.