Get efficient. Get converged.
Rather than sinking more resources into legacy technology, why not use this year's budget to optimize your IT infrastructure? A new converged infrastructure can help you maximize efficiency and minimize your data center's footprint.
Converged infrastructures treat storage, network and computing as one unit. Though they are physically separate, the components are managed from a single interface, saving time and increasing responsiveness.
Strike the right balance for your business.
Converged infrastructures are the perfect middle ground when it comes to data center transformation. They offer a good balance between the flexibility of traditional infrastructures and the efficiency of hyperconverged platforms.
Components in a converged infrastructure do not have to be from the same vendor. This gives you more flexibility in vendor choice. Plus, you can scale, repair or replace individual components without affecting the whole unit.
What are the benefits of convergence?
Since the components in a converged system are managed through a unified interface, converged clients also enjoy unified support. The component manufacturers work together to answer support requests, rather than passing the end user off to one of the other manufacturers.
Along with integrated support, other benefits of a converged infrastructure include:
Validated designs & architectures
Advanced management tools to simplify operations
Easy management & more predictable operational spending
Increased IT responsiveness & shorter deployment cycles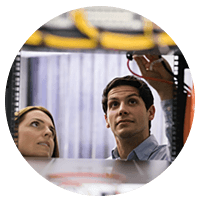 Deep technology expertise
Our experience across a wide spectrum of converged technologies allows us to guide clients to the best fit for their environment and workloads.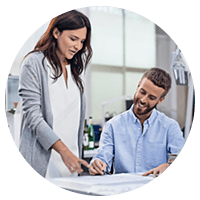 Unbiased recommendations
Thanks to our deep relationships with leading tech providers, we're able to craft comprehensive, brand-agnostic solutions for your business.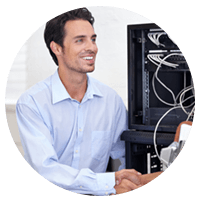 Full-service IT support
We assist with all facets of implementation, from architecting solutions and selecting technologies to helping you assess and manage workloads.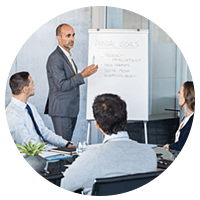 Strategy workshop
We offer an infrastructure strategy workshop to help you assess your current state, learn more about industry best practices and create a go-forward plan.
Start with strategy.
Not sure how to get started with convergence? Participate in our infrastructure strategy workshop. This workshop will help you document your infrastructure's current state, compare it to industry best practices and learn more about the latest trends in private infrastructure.
By the end of the course, we'll lay out all of your options for improvement and help you craft a plan for reaching your desired end state. Our workshop is broken down into four offerings:
Data center network
Compute & virtualization
Data storage
Data protection
Run faster with flash storage.
Expand your converged infrastructure capabilities with flash storage. As a FlashStack™ Authorized Support Partner, we can help you design, deploy, manage and support a flexible, all-flash converged infrastructure solution.
Built on and deployed by industry-leading technologies from Cisco and Pure Storage, FlashStack converged infrastructure combines compute, network, storage hardware and virtualization software into a validated, fully tested solution.
Optimize your data center.
We'll help you assess, deploy and manage your next-generation infrastructure — and align your workloads with the right platform to achieve agility. Connect with our specialists by completing the contact form or using one of the two options below.
Contact us to learn more.
Fill out the form below to have an Insight specialist contact you.