S

implify complexity

Every year, 55% of Australian SMBs are targets for cyberattacks1. Rapid transition to remote work in 2020 left them even more vulnerable to hacking. Attempting to shore up security, 78% of organisations use more than 50 security products2, which can actually have the opposite effect of introducing more vulnerabilities.

Microsoft 365 E5 offers advanced Identity and Threat Protection and Information Protection and Compliance, to secure your organisation's IT estate.
1. CIO, 2020, Cybersecurity threats are exploding exponentially; how IAM can assist;
2. Microsoft, 2020, 'Your New CSO' eBook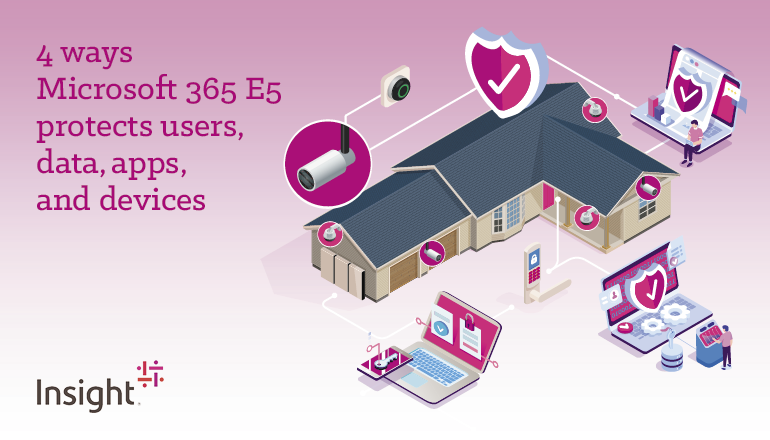 4 Ways Microsoft 365 E5 protects users, data, apps and devices
— Securing your users data, apps and devices with Microsoft 365 E5 is as simple as securing a home - and just as critical.
Read the infographic
W

orld-class security

Recognised by both Gartner and Forrester for its advanced security features, Microsoft 365 gives your organisation an edge on cybercriminals. Take advantage of:
Azure Active Directory Premium
Enhance security, simplify access, and set smart policies with a single identity platform
Microsoft Defender for Office 365
Detect potential vulnerabilities for identities, automate responses to suspicious actions
Azure Information Protection P2
Control and secure emails, documents and sensitive data shared outside your company
Advanced Compliance
Assess compliance risks intelligently, protect sensitive data
Microsoft Cloud App Security
Control cloud data identify and combat cyberthreats
Microsoft Defender for Identity
Help security teams protect on-premises identities, prioritise threats
Microsoft Security Workshops
C

loud security and risk management are essential nowadays to achieve operational and business success.

Our Microsoft Security workshops arm you with the most up to date knowledge and skillsets surrounding data privacy and practices, insider risks and cloud threat protection.
I

nsight and Cromwell: Bringing people and information together

When this Australia-based property firm acquired a new business in Europe, they found themselves with duplicate technology and a need for more rigorous, streamlined identity management.
B

oost your agility.

We'll help you strategise, implement and manage future-ready IT security solutions. Connect with our specialists by completing the contact form.