Y

our partner in digital transformation
IT modernization means more than just upgrading your technology — it's about creating value and enhancing experiences for your community. Our team provides the support you need to implement end-to-end technology solutions that drive progress in your agency.

Cybersecurity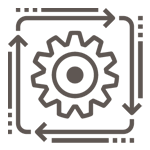 Maintenance and
cost control

Telework

Public service
T

hreats and inefficiencies are no match.

Government agencies are constant targets for cyberattacks, ransomware, phishing and other scams. Safeguarding sensitive agency data and public information is essential to protecting your residents.

Our security experts will guide you with effective and government-compliant solutions, including comprehensive endpoint protection, remote monitoring and alert systems, and managed security services — keeping your data out of cybercriminals' hands.
Q

uantico Cyber Hub

Take a proactive stance against cyber threats at the Quantico Cyber Hub, a cyber center of excellence created in collaboration with the Cyber Bytes Foundation. Industry experts and top technology brands come together at this one-of-a-kind facility to tackle the public sector's critical security challenges.
S

tate and local government cloud solutions

As agencies consider the cloud for its increased scalability, efficiency and potential cost savings, many have security, setup and management concerns. Insight Public Sector's consulting services provide the guidance and support you need to migrate safely and efficiently.
A

seamless office-to-field experience

Whether you're working from home, the office or somewhere in between, you need technology that enables you to stay productive and focused on your mission. We understand tight budgets and strict compliance standards and will work with you to achieve success.

Our experts will align the right digital tools to your needs, working with you to identify high-quality, budget-friendly tools, including:
Devices
Cloud applications
Help desk support
Virtual private networks
S

upporting public safety and first responders
When your first responders are on the scene, functioning technology is a necessity. From strong connectivity in the field and high-definition body cameras to ruggedized laptops and electronic citation systems, we'll make sure your public safety departments are supported.
You'll be able to equip:
Fire and emergency rescue services
Policing and law enforcement
Ambulance and emergency medical services
Animal control and wildlife officers
B

ridging the digital divide

Internet access is essential in a digital-first world — but rapid technology adoption has left many without the connection needed for remote work, online school and telehealth services. Public Wi-Fi solutions reduce digital inequity by providing reliable, secure broadband connection across communities.

Insight's public broadband services address these critical connectivity needs, from designing a custom solution for your city to implementation and ongoing maintenance. We'll also work with you to maximize the value of available federal funding opportunities.
T

ogether, let's build your smart city.

City governments will spend an estimated $41 trillion over the next 20 years on upgrading infrastructure to support connected technology solutions.* Digital experiences enhance the quality of life for residents in communities of all sizes — from smart traffic controls that improve road safety to efficient management systems that reduce waste.

Build a future-forward city with smart technology designed to meet evolving needs. Insight Public Sector works with you to drive measurable progress toward your smart city goals with IT solutions that provide value to your community.
L

ocal government software solutions

We have 3,500+ hardware, software and cloud partners. Whether you're looking for security, networking or productivity software, we can help. Plus, software asset management tools will help you control your licenses and eliminate wasted spending.
Modernize your government operations.
We'll help you solve your biggest IT challenges, so you can spend more time serving the public and less on technology management. Connect with our specialists by completing the contact form or using one of the two options below.
Chat now