Our network and security solutions get results.
Legacy IT security and networking technology creates obstacles to optimizing your business operations. Manual maintenance can lead to downtime that reduces productivity. And inadequate protection exposes you to security breaches that put your data and reputation at risk.
Our modern network and security offerings leverage automated features that save time, minimize error and free up your internal team to focus on strategic projects. Plus, built-in flexibility gives you the peace of mind that comes with knowing you're ready for whatever comes next.
G

ain a competitive edge in an always-evolving economy.

The way we do business is changing, and your IT team faces unique pressures to keep pace. From supporting hybrid work to adopting the Internet of Things (IoT), your systems will grow in size and complexity. You need network and security solutions that are up to the task.
W

e'll work with you to implement and manage systems built for:
Data growth
Network modernization and community broadband offerings deliver expansive connectivity.
Dynamic threatscapes
Security and ransomware services shield your data, employees and customers from cyberthreats.
Future-ready networking technology
Your workforce needs seamless connectivity beyond the office. From software-defined technologies to optimized wired networks to the wireless connections that fuel mobile workforces — any architecture can make modernization possible.
We provide solutions for:

Network automation

Software-defined data center

Software-defined LAN

Software-defined WAN

Traditional wired networks

Wi-Fi
Fast and secure community wireless broadband
In a digital-first world, internet access is a vital force empowering citizens. We provide end-to-end wireless infrastructure support for cities, counties and public institutions. Our technical teams have the expertise to guide you through strategic planning, initial deployment and ongoing management.
Regardless of your current state or in-house capabilities, our spectrum of public Wi-Fi solutions and services will keep your community connected, engaged and thriving.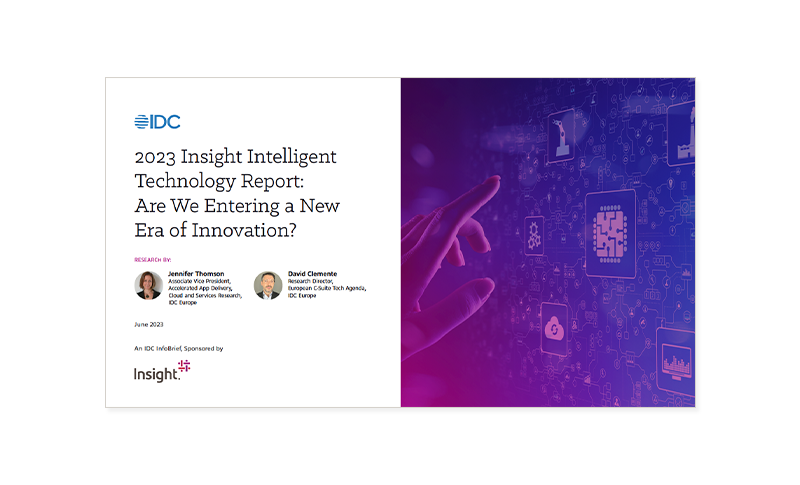 A new era of innovation
Businesses are reporting a new wave of accelerated innovation to address challenges stemming from aging technology and economic uncertainty. In the 2023 Insight Intelligent Technology™ Report, discover how businesses are investing in digital transformation to prepare for the future.
Customized IT security services and solutions
O

ur services

With Insight, you get a proven methodology and comprehensive cybersecurity framework that has been refined over years of delivering transformational outcomes for our clients. We'll shore up your IT environment with end-to-end managed security — including deep visibility, analytics and automated features.
O

ur solutions

There are countless security solutions designed to defend your IT ecosystem. But which solution mix is right for your business? Leveraging our long-running partnerships, we'll help you find best-fit tools for monitoring IT environments, protecting data and safeguarding your endpoints and workloads.
A

multilayered defense against ransomware

In a cybersecurity landscape that changes by the day, ransomware has emerged as an especially agile threat. We'll help you stay ahead of shifting risks with solutions that integrate seamlessly into your existing data operations and IT infrastructure.
We implement robust protection
across four key areas:

Identity
Endpoints

Networks

Infrastructure
Boost your agility.
We'll help you strategize, implement and manage future-ready IT security and networking solutions. Connect with our specialists by completing the contact form or using one of the two options below.