Say yes to less paper
Eliminate paper, streamline processes and reduce costs with paperless solutions from Insight and Image API.
Paperless solutions for the public sector
Embrace a new way of working. Paperless solutions help government and education organizations drive efficiency and get more done with less.
Easy procurement
Insight and Image API provide pre-approved contracts for the public sector.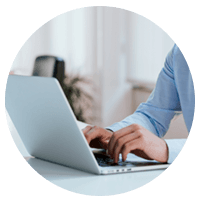 Simple to get started
Experience the benefits of digital content almost immediately and start using your solution in just weeks.
Seamless use
Image API solutions power productivity with intuitive functionality, private cloud security and more.
Explore business solutions
Discover a paper-free environment with solutions geared toward agencies and educational organizations. With Paperless Agency and Paperless Education solutions, your organization can experience a digital, paper-free environment with less clutter and more productivity.
---
Paperless Agency
Locating paper files in agency cabinets, file rooms or warehouses can be difficult, time-consuming and expensive. With Insight and Image API, going paperless in agency administration can immediately lower costs and risks, increase compliance and improve the constituent experience in every department, from human resources to accounting. Paperless Agency is powered by Axiom Digital Library™ or Axiom Pro®.
---
---
Paperless Education
Gain instant access to files in a private cloud — from student records to employee files or financial documents. Eliminate paper, manual processes and repetitive tasks to save time and money. Image API Paperless solutions for education provide increased collaboration, improved constituent experience and regulatory compliance. And, Paperless Education is powered by Axiom Digital Library or Axiom Pro.
Go digital with Image API products
Experience organization of the future with Insight and Image API. With Axiom Pro and Axiom Digital Library, papers are organized simply and digitally, empowering your workplaces with products that work hand in hand with Image API business solutions.
---
Axiom Digital Library
Organize and search for documents in just a few clicks in a secure digital file cabinet with Axiom Digital Library. Provide access to files in a private cloud powered by Amazon Web Services™ (AWS®), with security based on user privileges. And, Axiom Digital Library Includes Axiom Capture for digitizing and uploading files.
---
---
Axiom Pro
Manage your digital documents with Axiom Pro in a secure, scalable private cloud powered by AWS. Axiom Pro makes document management simple with robust capabilities from search and retrieval to redaction, retention, workflow and data integration. Access content from anywhere, on any device. Save time by automating repetitive, manual processes.