Enterprise data center storage solutions
Equip your organization with high-performing, secure and scalable storage solutions from a leader in data storage, available from Insight.
Exos Corvault multi-petabyte storage
Storing data efficiently is an imperative for modern businesses that create, store and consume mass amounts of information. With Exos® Corvault maximum data density, you'll reduce your storage footprint and gain the highest capacity, most efficient and latest technology.
Self-healing properties and Seagate Secure™ self-healing technology decreases your IT team's management burden. Plus, Exos Corvault boasts 99.999% availability.
---
Expansion Shelves & JBODs – Exos E
Deliver industry-leading density without sacrificing performance. Versatile architecture lets you easily scale your storage, simplify operations and optimize costs.
---
Flash, hybrid and disk arrays
Seagate Exos X series offers a petabyte-scale, rack-mounted storage system that can be scaled according to your organization's size and needs — from small businesses to large enterprises. Ideal for conventional data centers or cloud infrastructure, Exos X provides massive capacity, performance and low latency.
---
Compute and storage convergence platforms
Seagate Exos AP series gives you to the ability to expand as your organization grows. These scalable data systems combine compute and storage in one chassis to improve efficiency and reduce your data center footprint.
---
Flexible storage as a service with Lyve Cloud
Scale without burdens with Seagate Lyve™ Cloud storage as a service solutions. You'll gain world-class availability, security and cost predictability from a widely trusted storage provider.
Object storage
Store, move, and access data without any egress or API fees.
Data analytics
Accelerate your path to insights with scalable open data lake architecture.
Tape migration and storage
Breathe new life into your legacy data without lifting a finger.
---
Enterprise hard drives and SSDs
Ensure business continuity with rigorous uptime, reliability and security standards. Seagate enterprise hard drives and SSDs are designed to handle resource intensive application and storage requirements.
Exos hard drives
Exos X series hard drives
High-capacity storage and reliability for serious workloads.
→ Shop now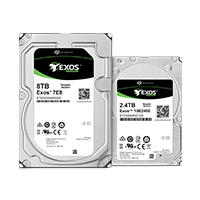 Exos E series hard drives
Purpose-built hard drives that are for enterprise applications and workloads.
→ Shop now
Nytro SSD Series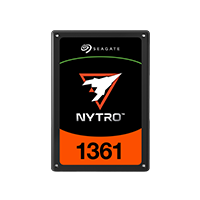 Nytro SATA SSD series
Designed for data center and cloud server applications
→ Contact us to buy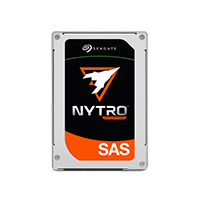 Nytro SAS SSD series
Up to 15TB capacity, built for fast data center applications.
→ Contact us to buy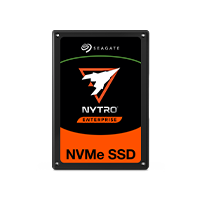 Nytro NVMe series SSDs
Up to 15.36TB High performance engineered with Phison technology for the modern data center
→ Contact us to buy
---
Specialized drives
Purpose-build drives are designed to meet the specifications of demanding tasks and are tightly integrated for maximum capacity and high performance.
Upgrade to maintain peak performance.
When you update your storage ecosystem with the newest Seagate systems, you'll get modern protection, updated software features and maximum storage density. With this upgrade promotion, Seagate offers special discounts on products, service and support subscriptions.