P

rofessional and managed services for modernizing IT

The nature of work is changing at an unprecedented rate as the demand and need grows for remote work, seamless end-user experiences and cloud solutions.

We help evolve your technology and simplify IT operations so you can design a work environment that attracts, develops and retains extraordinary employees.

With deep analysis and strategic execution, we help your business adopt the technology, processes and support you need to be ambitious
Y

our end-to-end digital workplace modernization partner

From implementing cloud-first ecosystems to streamlining support, we have the experience and expertise to build your modern workplace. We'll help reduce your IT management burden while enhancing productivity and cost efficiency.
Delivering better business outcomes
Streamlining IT complexity with modern approaches and solutions is our specialty. Discover how our advanced capabilities and deep partnerships transform operations. View all client stories →
T

he modern digital workplace

Our solutions help your business meet the demands of smarter and more collaborative hybrid work, while reducing the strain on internal IT.
Ready to transform support?
Our team of IT experts will help identify improvement opportunities, so you can start delivering consumer-like experiences through modern support models.
Discover end-user assessments
O

ur modern workplace approach

We can help your business at any stage of its modernization journey with expertise across all aspects of IT support and digital workplace services.
We offer managed services for continuous modernization, security and administration, including:
Our professional services offer technical improvement guidance through:
Adoption and change management
Architectural design
Assessments and health checks
Configuration and implementation
Roadmap workshops
W

hy Insight for your modern workplace?

Successfully deploying, adopting and managing the tools and technology your business needs and employees expect is challenging. We have the people, processes and experience to achieve meaningful results.
25+
years of modern workplace service delivery
As of 2022
1,500+
service desk and deskside specialists
As of 2022
2M+
users supported
As of 2022
150+
workplace transformation consultants
As of 2022
700+
workplace transformation engagements
As of 2022
6k+
hardware, software and cloud partners
As of 2022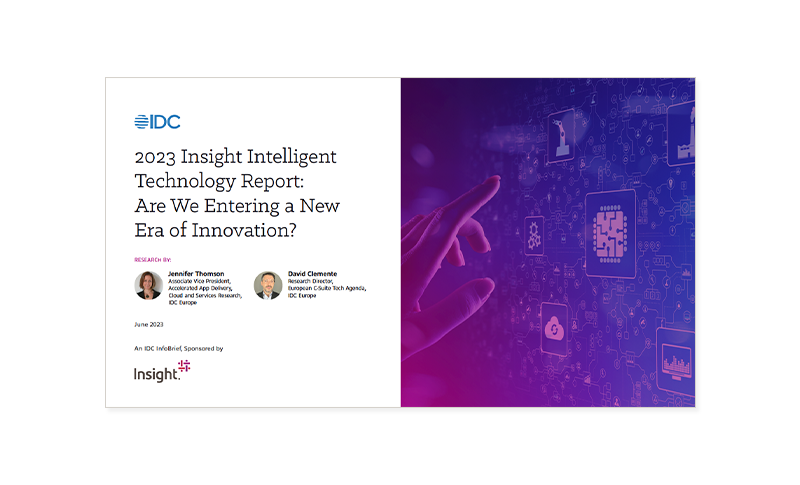 A new era of innovation
Businesses are reporting a new wave of accelerated innovation to address challenges stemming from aging technology and economic uncertainty. In the 2023 Insight Intelligent Technology™ Report, discover how businesses are investing in digital transformation to prepare for the future.
L

et's do big things together.

Innovating is the only way to stay relevant in today's uber-competitive market. Our unique approach and deep knowledge put you on the path to true innovation.
Empowering your future-ready workforce