A strong foundation for digital evolution
To keep your organization running smoothly, your network needs to accommodate more traffic, users and devices than ever before. Legacy systems just can't keep up. Our network modernization experts design, implement and manage solutions that boost performance and agility — giving you a competitive advantage.
An upgraded network environment gives you:
Better visibility
Deeper contextual information
Increased access control
O

ur portfolio of enterprise network solutions

Disjointed networks can struggle to keep up with an always-expanding data ecosystem. We implement and integrate these technologies to create an adaptable network that connects all your users and protects your data against evolving cyberthreats:
Software-defined infrastructure
Endpoint protection
Behavioral systems
Network visibility
Network access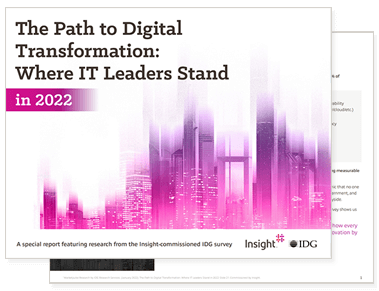 37% of leaders report modernizing networking technologies as a top IT goal for 2022.
Businesses detail how they're prioritizing digital transformation and improvements in the new IDG report "The Path to Digital Transformation: Where IT Leaders Stand in 2022."
O

ur approach to network modernization

We leverage decades of expertise and trusted industry partnerships, working closely with you to deliver end-to-end services that align with your needs and goals. Plus, our solutions ease management burdens with automated features that save time and minimize errors.
Envisioning
In our assessments and workshops, we work to understand your environment and strategize a solution that bridges your current state and future goals.
Execution
Our implementation specialists will roll out the technologies, processes and cybersecurity controls that keep your organization connected and competitive.
Optimization
Our partnership doesn't end when your new network environment goes live. We'll continue to refine and manage your solution to help you realize its full value.
Transform your enterprise networking.
IT strategies are increasingly intertwined with business strategies, and integrated enterprise networking provides a path to digital evolution that also drives progress toward broader organizational goals. Our secure, high-performance solutions boost efficiency and productivity by streamlining systems and simplifying management.
Protection at every step
Your network is the foundation of your IT environment, holding valuable data that's accessed, stored and transferred. We'll help you protect sensitive information with modern security solutions that provide an unshakable defense against attacks, such as:
Vulnerability assessments
Incident response planning
Managed security
Remediation support
Building a software-defined network.
Supporting more devices and dispersed users doesn't have to increase the complexity of network administration. Our software-defined solutions, including Software-Defined Wide Area Networking (SD-WAN), Software-Defined Local Area Networking (SD-LAN) and Software-Defined Data Center (SDDC) can reduce costs while enabling flexibility.
We provide a range of software-defined offerings, including:
Network modernization assessment
Solution selector/SD-WAN workshop
SD-WAN or SDDC proof of concept
Managed SD-WAN services
SDDC Readiness Assessment
Design services and migration planning
Limited production deployment
Full production rollout
Residency services and managed services
Network modernization with Insight + Cisco
In collaboration with Cisco, we provide extensive offerings to modernize your network, such as the Enhanced EA program and Cisco Managed License Agreement program. We're an elite Cisco partner with more than 600 major certifications and 20+ years of experience working together.
Boost your agility.
We'll help you strategize, implement and manage future-ready IT security and networking solutions. Connect with our specialists by completing the contact form or using one of the two options below.