Guest-centric solutions
Fast, friendly and luxurious service is a travel and tourism standard. Falling short of expectations can lead to lost business or a bad online review. But, combining your offerings with the right technology can make a substantial difference.
Create an exceptional environment that delights customers with modern hardware, software and cloud solutions. We have the technical and industry expertise to design and implement technology tailored to your desired outcomes.
Modernize your front and back office.
Seamless experiences and stays require the latest IT. We'll help you purchase, implement and manage your entire ecosystem.
Networks
Create secure, mobile-friendly spaces across lobbies, rooms and patios to support on-the-go guests and staff.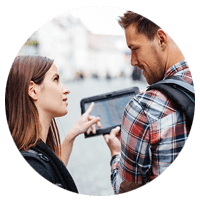 Devices
Simple and fast hardware — from point-of-sale to desktop to mobile solutions — will enhance interactions.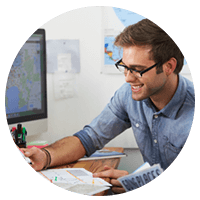 Software
Maximize your software lifecycle and optimize costs with effective procurement and governance strategies.
Hospitality technology that builds connections
Uniting people through destinations and experiences is at the heart of the travel and tourism industry. Our modern workplace solutions will ensure you'll never miss an opportunity to engage customers.
Your teams will work smarter when you deploy a cloud-first work environment that includes:
Our security-first approach
Protecting customer data can be a full-time job. That's why we integrate security in everything we do to safeguard your data and systems from malicious entry, cyberattacks and more.
Deliver a lasting impression.
Turning a dream travel experience into a reality requires a personal touch. Our solutions transform digital tools to create memorable experiences.
Boost your IT infrastructure.
Maintaining business agility requires a modern and effective IT environment. Strengthen operations and free resources with our modern infrastructure solutions. We'll help you solve your business challenges through discovery, analysis, deployment and management services.
Ready to grow your business?
The right technology investments have the power to radically shift your organization. Together, we'll achieve better outcomes. Connect with our specialists by completing the contact form or using one of the two options below.