A better way to meet
Empower engaging visual meetings with easy-to-use wireless presentation system solutions from Insight and Barco.
Talk to a specialist
Great things happen when people click.
ClickShare™, a wireless presentation system and conferencing tool, fosters understanding between people by freeing them to interact easily and naturally.
Triple agnostic
Integrate your laptop or desktop ― and connect instantly with peripherals and conferencing platforms.
Bring Your Own Meeting (BYOM)
Automatically connect to cameras, soundbars and other AV USB-peripherals in the room for a better, more immersive meeting experience.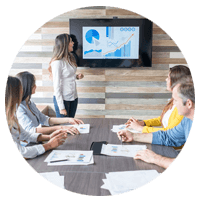 Security
Whether in new or refurbished offices, reliable, future-proof tech solutions bolster cyber protection.
ClickShare Conference Wireless Collaboration System
Barco® ClickShare Conference (CX) elevates the unified sharing experience of the classic presentation system. CX offers BYOM collaboration in any conference room by connecting your device of choice to the room peripherals (camera, soundbar, etc.) within seconds.
ClickShare Wireless Presentation System
For wireless presentation systems that offer a seamless, user-friendly and hassle-free experience, look no further than the Barco ClickShare range. With it, you'll share presentations in an easy, straightforward way, without having to fiddle around with wires, cables and adapters.
Barco and Logitech
Together, Barco and Logitech offer functional, easy-to-use, agnostic room solutions that leverage BYOM to provide unique advantages to your business.
By combining products from the Barco ClickShare CX family with Logitech® MeetUp and Rally tools, you get a bundled solution that's easy to buy, intuitive to use and built for longevity. And, you can choose from small, medium or large room options.
Effortless and seamless collaboration
Connectivity is the bedrock of modern business. Keep your teams working together productively with technology that facilitates collaboration and knowledge-sharing.